Whale Watching Tours
BC Whale Tours offers 4 zodiac style vessels
Scroll down to view the available vessels and departure times
- Please note that the tours are the same among all vessels -
10:00am & 2:00pm DEPARTURES
12 PASSENGER MAX, INDOOR/OUTDOOR SEATING, WASHROOM, SURVIVAL SUITS PROVIDED
+ DETAILS
BC NOVA is Captain Harold's latest custom designed vessel to join the BC Whale Tours fleet. The new design on the hull has given BC NOVA the smoothest of rides in all conditions and the ability to manuever quickly and efficiently ensuring a comfortable yet thrilling ride! Enjoy indoor and outdoor seating options, a private washroom, and provided survival suits on your tour with BC NOVA.
10:00am & 2:00pm DEPARTURES
12 PASSENGER MAX, INDOOR/OUTDOOR SEATING, WASHROOM, SURVIVAL SUITS PROVIDED
+ DETAILS
BC ORCA offers indoor and outdoor seating allowing people to have the option to change their style of seating throughout their whale watching tour. BC ORCA is unique for her hull design. Captain Harold specifically designed a double side-stepped hull for BC ORCA, which allows less surface area of the hull to be in contact with the waters' surface. This reduces drag allowing the boat to go faster on less power, which not only greatly reduces our carbon emissions but also makes BC ORCA the reigning champion as Victoria's fastest whale watching industry vessel.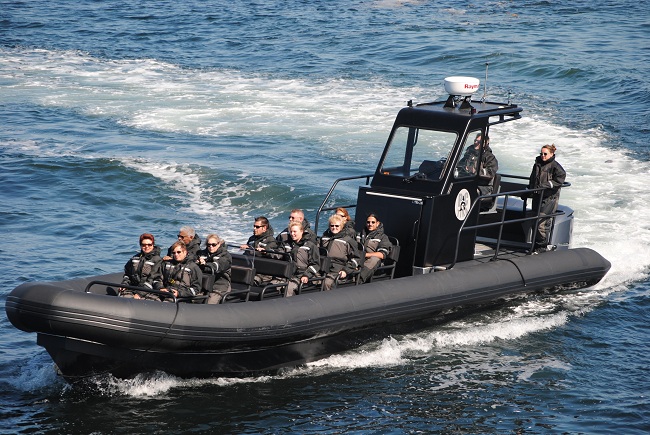 10:15am & 2:45pm DEPARTURES
12 PASSENGER MAX, FULLY OPEN BOAT, WASHROOM, SURVIVAL SUITS PROVIDED
+ DETAILS
BC TIKA is our only fully open style zodiac. She is one of a kind custom built with an overall length almost double of all whale watching industry zodiacs in Victoria. She is incredibly smooth in all weather conditions. Each row consists of 2 seats creating large walkways around the boat allowing passengers to move about the vessel comfortably for optimal viewing and photography purposes. The name TIKA is of local indigenous origin meaning swift.
10:30am & 3:00pm DEPARTURES
12 PASSENGER MAX, INDOOR SEATING, WASHROOM, NO SUITS REQUIRED, BEST FOR INFANTS AND SENIORS
+ DETAILS
Designed by company owner Captain Harold, BC LUNA is renowned for her hurricane-proof / tsunami-proof / roll-proof safety design and speed. With +30 seats and a maximum capacity of 12 guests, BC LUNA offers at least one indoor and one outdoor seat for guests so you can cater to everyone in your group. Fewer passengers means luxurious comfort, a guaranteed seat inside, and freedom to move around the boat with ease and no survival suits required. Private washrooms are available on all of our vessels.